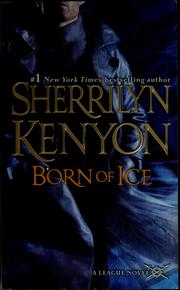 You may remember my reviews of the first two books in Sherrilyn Kenyon's League series:
Born of Night
and
Born of Fire.
You may remember how much I love these books. I mean, it's not like I rave about them all the time or anything.
Unfortunately, book #3, Born of Ice doesn't quite live up to the first two books. Sure, the more you read any Kenyon books and the less amazing they are, but even the first time through, "Ice" wasn't overly impressive. But I still love it.
Devyn Kell is the son of Shahara and Syn (see Born of Fire), and a runner (similar to a smuggler, but not quite). He used to work as a army medic, but effectively "resigned" when he turned against his own unit in order to save a ten-year-old boy (Omari, who becomes Devyn's adopted son). And then there's Devyn's ex-fiancée, who mortally injured Devyn years ago, leaving him with a dangerous heart condition.
Alix is a slave. After her father/owner dies, a man named Merjack gets a hold of her and decides to use her to get back at Devyn's family. Y'see, Alix bears a startling resemblance to Devyn's ex-fiancée. So Alix joins Devyn's crew as the engineer. Even in the beginning, she doesn't want to take down Devyn, but it becomes harder and harder as she falls deeper and deeper... IN LOVE!!!
I'm going to go right out and say it. Devyn and Alix are both pretty stupid. I don't really care about either of them. And let's face it: the plot of "Ice" is pretty basic too, and not at all interesting. I get the feeling Kenyon didn't spend a lot of time editing this book, because it just isn't too awesome compared to the other books in the series.
And don't get me started on Kenyon's all time favorite line. "And in that instant, she/he knew insert-obvious-fact-of-life-here." She used it a few times in her other books, but she really goes overboard in "Ice". It gets a leetle ridiculous.
It would also be very confusing for people who haven't read books #1, #2, and #4 (possibly #5, but I haven't read that yet, so I don't know if it makes things clearer or not). It seems like every single character ever named in the League series had about fifteen children, and they're all in Born of Ice. It gets very hard to keep track of them.
The only things that save this book are Vik and Omari. Vik first appeared in "Fire", and he's only gotten better since then. I have a soft spot for snarky robots. And then Omari is just cute.
So...basically it's not a very well-written book. But! The first time through is as captivating as ever, and I mean... VIK!! He makes it all okay.
By the way, we're over halfway into RAMFAP month...how are y'all doing? Better than I am, I hope... That's all I'm gonna say.
--Persy
You might like this if you: like dramatic romances with stupid main characters; improbably spaceship chase scenes; tortured characters; or just the other books in Sherrilyn Kenyon's League series.